Pancreatic cysts represent a broad and diverse group of benign and malignant entities. Establishing the correct diagnosis can be challenging using standard clinical findings, imaging parameters and ancillary fluid studies, such as cytology and CEA level. Recent advances in genetics of pancreatic cysts and cancer have identified a number of molecular markers associated with specific cyst types that can be used diagnostically and prognostically (1,2). The PancreaSeq test has been designed to detect these markers, including genetic mutations in KRAS, GNAS, BRAF, and TP53 genes, gene fusions in PRKACA/B, ALK, NTRK1/3, RET, and BRAF genes, copy number alterations in SMAD4 and TP53 genes and gene expression alterations, as well as CEA (CEACAM5) gene expression.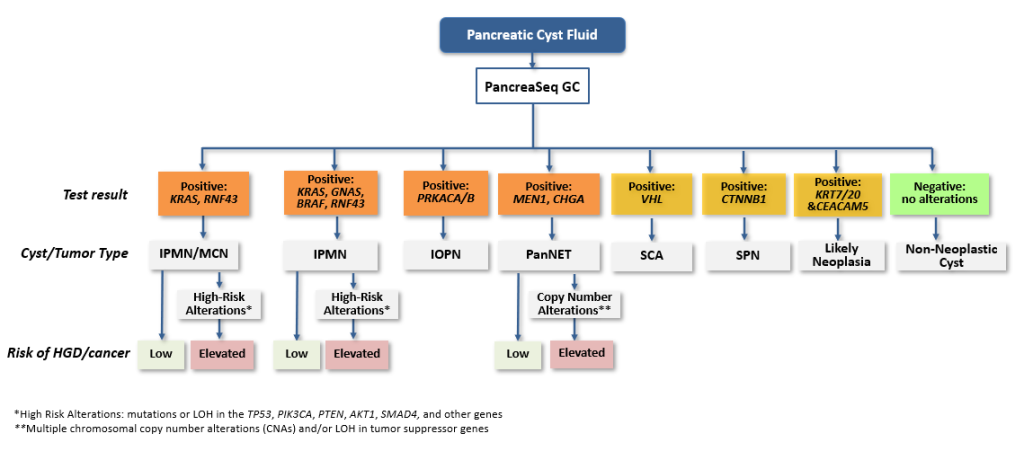 Clinical validity and utility of the PancreaSeq test was established in several studies including a large prospective multicenter study of 1,889 patients with pancreatic cysts reported in Gastroenterology (3, 4). In addition, an updated PancreaSeq Genomic Classifier (GC) DNA/RNA next-generation sequencing test was validated in a large multicenter study and reported in Annals of Surgery (5).
The PancreaSeq GC test has a 95% sensitivity and 100% specificity for detection of cystic precursor neoplasms (IPMN, MCN, IOPN), and the 82% sensitivity and 100% specificity for detection of advanced neoplasia (5). The test also showed accurate detection of cystic PanNET (100% sensitivity and 99% specificity) and of non-neoplastic pancreatic cysts (95% sensitivity and 95% specificity) (5).
References:
Bell PD, Singhi AD. Integrating Molecular Analysis into the Pathologic Evaluation of Pancreatic Cysts. Surg Pathol Clin. 2022, 15(3):455-468.
Springer S, et al. A multimodality test to guide the management of patients with a pancreatic cyst. Sci Transl Med 2019;11.
Singhi AD et al. Preoperative Next-Generation Sequencing of Pancreatic Cyst Fluid is Highly Accurate in Cyst classification and Detection of Advanced Neoplasia. Gut, 2018; 67:2131-2141.
Paniccia A, et al. Prospective, Multi-Institutional, Real-Time Next-Generation Sequencing of Pancreatic Cyst Fluid Reveals Diverse Genomic Alterations That Improve the Clinical Management of Pancreatic Cysts. Gastroenterology, 2023; 164:117-133.
Nikiforova MN, et al. A Combined DNA/RNA-based Next-Generation Sequencing Platform to Improve the Classification of Pancreatic Cysts and Early detection of Pancreatic Cancer Arising From Pancreatic Cysts. Annals of Surgery, 2023, ahead of print.
Useful Links
---